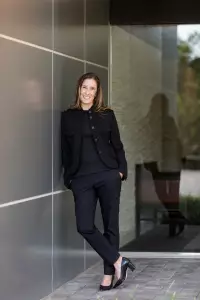 Sarah brings to the firm more than 20 years' labor and employment law experience – having served the past 15 years on the labor and employment team at international law firm Hunton Andrews Kurth LLP. Sarah's practice has ranged the gamut from complex, class action litigation to day-to-day advice regarding workplace policies and single employee issues and concerns. Sarah is proficient in a broad array of substance areas, including:
Non-competes, Non-solicitation, and Non-disclosure Agreements
Discrimination based on race, sex, disability, national origin, gender identity, sexual orientation, age, pregnancy, and all other protected categories
Workplace Harassment
Retaliation
Reasonable Accommodations for Pregnancy and Disability
Employee Discipline
Employee References and Defamation
Handbook and Policy Development
Drug Testing
Wages, Hours, and Overtime Compensation
Family and Medical Leave
Although Sarah emphasizes preventative approaches and informal resolution of disputes whenever possible, she is a dogged and unrelenting advocate when necessary. Sarah prides herself on efficiency and is committed to providing outstanding service at a fair price. She is fast, thorough, curious, responsive, and an excellent listener. She finds nothing more satisfying than finding a new or creative way to solve a client's problem. Sarah has recently expanded her practice to include representing students with disabilities and their families in special education disputes under the IDEA. As the mother of an adult son with autism, she is passionate about this subject matter and honored to have the opportunity to use her legal education and skills to fight for the free, appropriate education to which each of her special education clients is legally entitled.
Experience:
Hunton Andrews Kurth LLP: Senior Attorney
The Honorable Marvin H. Shoob, United State District Judge, Northern District of Georgia: Law Clerk
Education:
University of Virginia School of Law: J.D., 1996

Order of the Coif
Virginia Law Review

Duke University: B.A., Political Science 1992